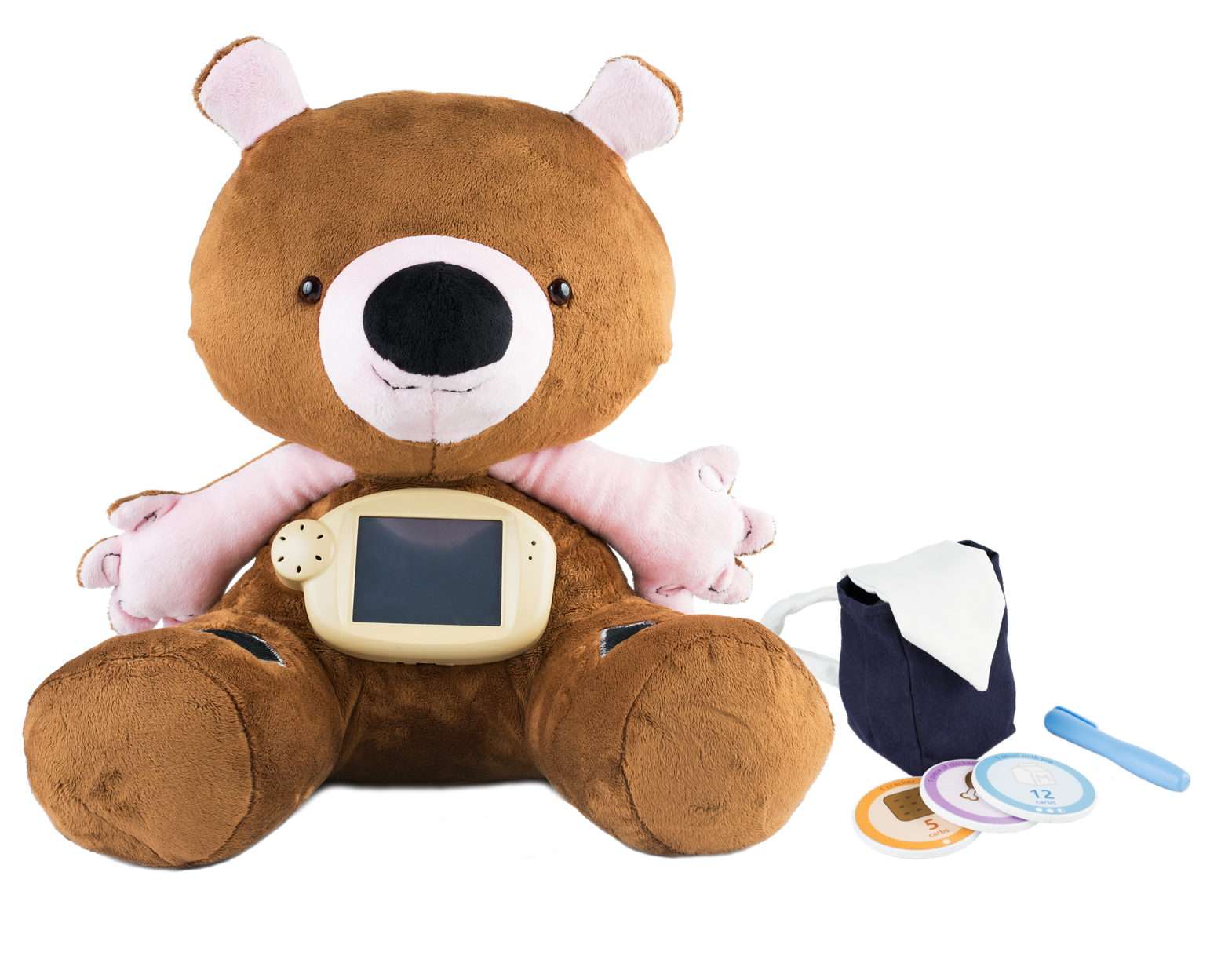 If you follow diabetes news through social media, then you've probably seen at least some mention of Jerry the Bear's Indiegogo crowd-funding campaign, either because of their charmingly audacious goal of delivering the largest reward in crowd-funding history, or because they hit their first fundraising goal in under 5 days. In either case, you probably got the sense that these people dream big and know how execute. And you're right.
I first met Jerry, and his founders Aaron and Hannah, at Children with Diabetes' Friends for Life conference in Orlando in 2012. This scruffy kid in a bear suit was walking around the exhibit hall meeting exhibitors and talking to kids. So we chatted off and on during lulls in foot traffic, and I learned more about the stuffed bear who was going to teach kids about diabetes. I assumed Aaron was their summer intern, or maybe even a local Orlando teen hired to wear the suit and man their table for a couple days. Then I met Hannah, who seemed just as young, but equally energetic and excited about Jerry. I remember thinking "wow, I wish I could find booth workers this good!"
On the last day of the product fair, I got to film Aaron-as-Jerry in a dance-off with Dr. RiCureDi, the Diabetes Research Institute's bear mascot. For anyone lucky enough to bear witness [sorry!] it was a highlight of the day.
It was only as the show was ending that we exchanged cards, and I saw that Aaron's title was CEO. I'm pretty sure he was 22 at the time. Then I learned that not only had Hannah co-founded Sproutel (the company that makes Jerry), she had also co-founded Design for America, and was named one of the 15 women to watch in technology by Inc. Magazine.
So what were these overachieving entrepreneurs doing having dance-offs in bear suits? Well, when they first started going to shows, Aaron tried dressing more like a manager, but Hannah insisted on the suit. What they found was that kids, who were going to be their customers, were shy and distant around Aaron, but totally comfortable opening up to a giant stuffed animal. That's how they've been so successful creating a product that's such a hit with kids: by talking to them, making something, showing it to them, and then talking some more, until they got to where they are now. But I know they won't stop here. In fact, I'm pretty sure they're just getting started. So by supporting their campaign, you're not just helping get a valuable learning tool into the hands of a kid whose life will be so much better as a result, you're investing in two people who are going to bring their creativity and determination to a lot more problems before they're done, and share a whole lot of fun along the way.
Fund Jerry the Bear's Indiegogo campaign here.
If you'd like to participate in their referral program, follow these three steps:
1. Create an Indiegogo account.
2. Use the share buttons below the video to share your referral link with your social network!
3. If 10 people contribute to our campaign using your referral link, you'll be among the first to receive Jerry the Bear!